My Computer Collection
Main Workstations
SpaceBook Pro 2300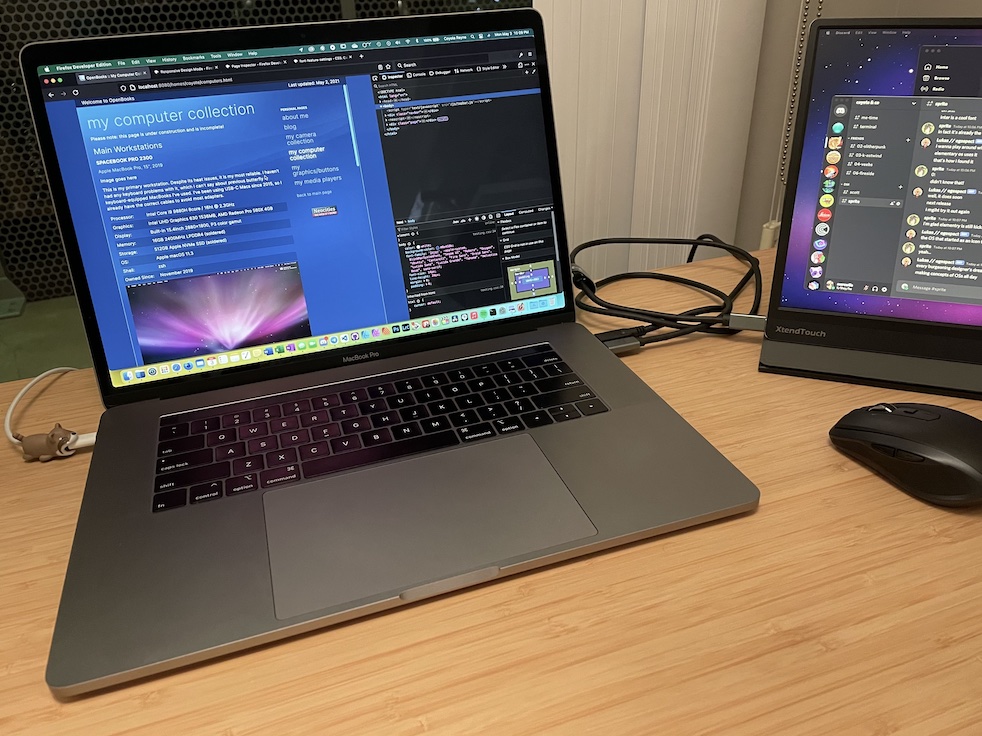 Apple MacBook Pro, 15", 2019. In working context with portable monitor.
This is my primary workstation. Please don't hate on me for being (gasp) a laptop user and (gasp) a Mac user.
Despite some issues, I haven't had any major problems with it. For a while it would randomly shut down, but after some update, it went away.
For me, this is almost the perfect machine. It does everything I need to with reasonable speed, has I/O I actually like, and a great display.
I also haven't had any keyboard problems with it, which I can't say about previous butterfly keyboard-equipped MacBooks I've used. I've been using USB-C Macs since 2015, so I already have the correct cables to avoid most adapters.
It isn't perfect, and is far honestly a little far from it, but the perfect machine doesn't exist ... yet. We'll see what happens once Apple Silicon has matured a bit more, but for the price I paid, I'm expecting to keep this for several years before upgrading.
Specifications:
| | |
| --- | --- |
| Processor: | Intel Core i9 9880H 8core / 16ht @ 2.3GHz |
| Graphics: | Intel UHD Graphics 630 1536MB, AMD Radeon Pro 560X 4GB |
| Display: | Built-in 15.4inch 2880x1800, P3 color gamut |
| Memory: | 16GB 2400MHz LPDDR4 (soldered) |
| Storage: | 512GB Apple NVMe SSD (soldered) |
| OS: | Apple macOS 11.3 |
| Shell: | zsh |
| Owned Since: | November 2019 |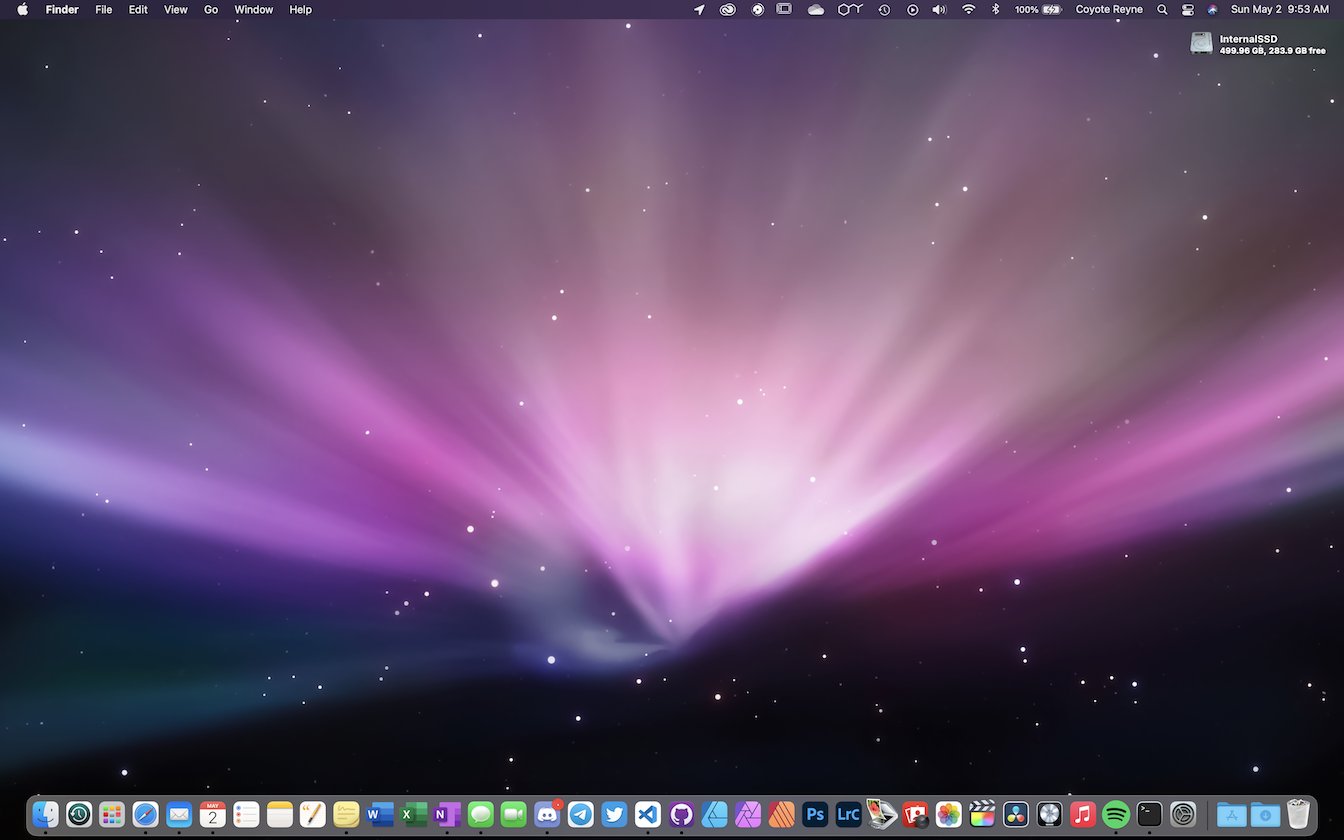 Leopard wallpaper rules. Each of my virtual desktops has a different vintage wallpaper. In this order, I have: Mac OS X Leopard, Windows Vista, Mac OS X Tiger, Windows XP. The Bliss wallpaper hits different in 2.5k.
---
REYNE 3000
HP Omen 870
It's a Windows desktop, something I used to avoid. I use it for some gaming, and creative work. I recently purchased a new display for it, so it's actually been quite useful now. There really isn't anything else to be said about it, it's just a desktop PC.
| | |
| --- | --- |
| Processor: | Intel Core i5 7400 @ 3.0 GHz |
| Graphics: | NVIDIA GTX 1060 3GB |
| Display: | Asus ProArt 27" 2560x1440 Display, full sRGB, along with a vintage Sony LCD 1280x1024 monitor. |
| Memory: | 8GB 2400MHz DDR4 |
| Storage: | 512GB Samsung 850 EVO |
| OS: | Windows 10 Home |
| Shell: | Microsoft PowerShell |
| Owned Since: | 2018 |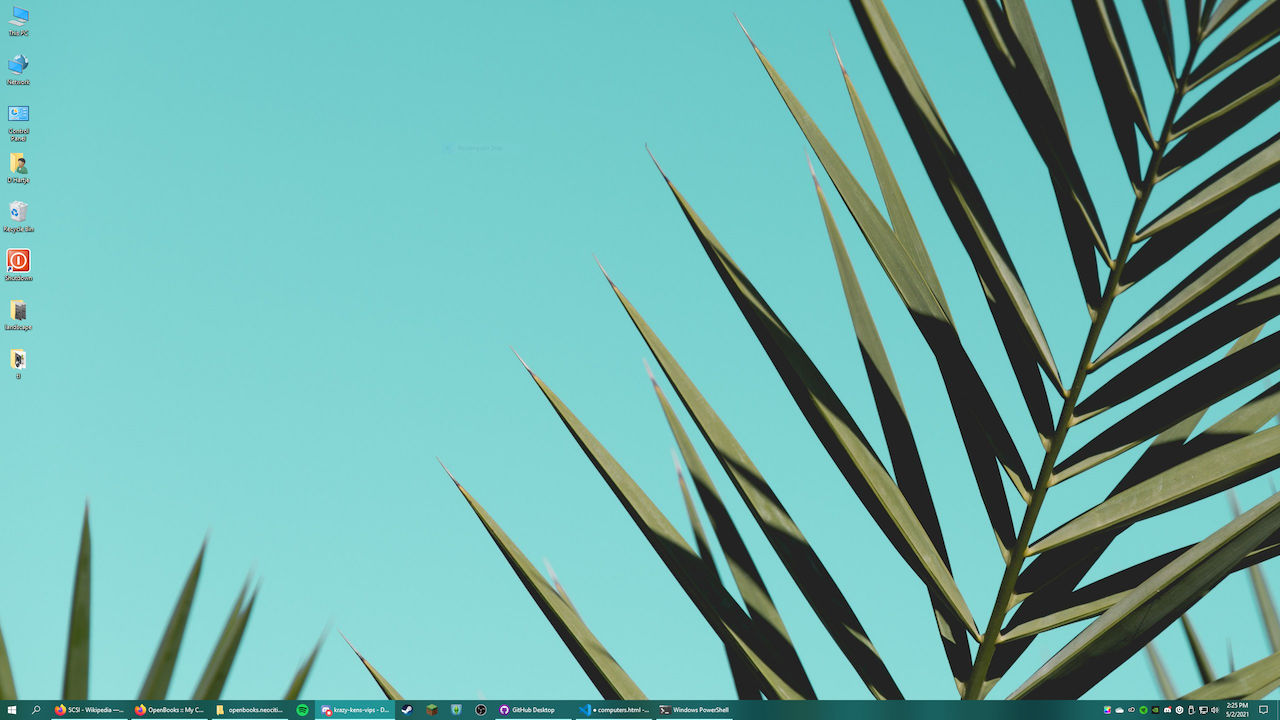 This is the desktop for the primary display.
---
Samsung Galaxy Book S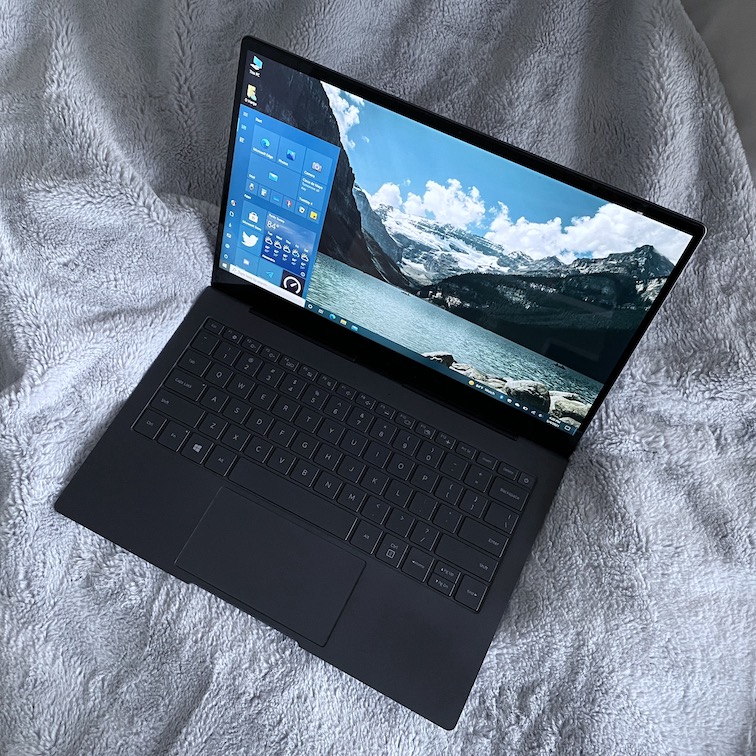 This is my ultraportable. It's light, has an LTE modem, and has USB-C so it works with all of my drives. The ARM processor makes battery life great, but it's slow for running any emulated apps, so I avoid doing that.
The ARM also processor requires no fans, and never gets hot, so I can use this machine pretty much anywhere.
| | |
| --- | --- |
| Processor: | Qualcomm Snapdragon 8cx @ 2.84GHz, 8c |
| Graphics: | Adreno 680 |
| Display: | Built-in 12inch, 1920x1080 touch display |
| Memory: | 8GB 2133MHz LPDDR4X (soldered) |
| Storage: | 256GB SSD (soldered) |
| OS: | Windows 10 for ARM |
| Shell: | Microsoft PowerShell |
| Owned Since: | Mid 2020 |
desktop goes here
---
Vintage or Retro Computers
This section isn't quite ready yet, but here is a preview of what's to come:
Power Mac G5 Dual, 2005
Power Mac G4 Cube (1)
Power Mac G4 Cube (2)
iBook G3 Snow, 2002
iBook G4, 2005
And other Mac Laptops
---
The Not-Quite Retro
Samsung ChromeBook 2
This is somewhat of an honorable mention here, it's just a standard 11inch ChromeBook from 2014. However, it's a little special for being the computer I used to create much of OpenBooks in 2015, and the reason the first version of the site was called ChromeBooks. Lots of fond memories of running a chroot install of Linux to be able to run real apps.
---
Mobile Devices
Apple iPhone 12 mini, 128GB, black. Don't judge me, I started with an iPhone, used Android for years, and now I'm back.
Apple Watch SE, Space Gray
Samsung Galaxy Tab S6, Cloud Blue. I kind of want to replace this with an iPad though.